Ergonomics at Home: Is Your Home Office Set Up With Ergonomics in Mind?
Evaluating ergonomics in the home usually means small changes to your everyday tasks, but they can add up to big benefits in your overall safety and comfort.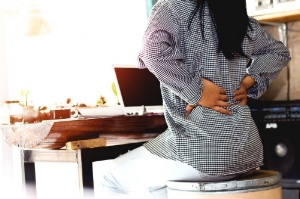 The way we work in the U.S. is changing. The traditional office space is no longer commonplace as shared workspaces, dynamic offices and home offices become more and more popular. Particularly with the rise of freelancers and remote workers, it's so easy to work from the comfort of a home office without the hassle of a commute or confines of a cubicle. Studies have shown that roughly 55% of people work from home at least half of the time.
But working from home means holding oneself accountable for productivity in a home environment. How is it possible to achieve the benefits of focus and productivity of the traditional office space while avoiding the drawbacks of discomfort and idleness that those spaces bring?
Ergonomics is typically defined as the study of people in the work environment. Properly executed it can lessen muscle fatigue, increase productivity, and lower the risk of musculoskeletal disorders. The idea is to design or arrange certain spaces or systems to fit the person performing the job to create a safe, comfortable, and constructive environment.
Applying ergonomics in the home office can be just as effective as applying it traditionally. One way to create an ergonomic space at home is buying the right chair; one that offers adequate lumbar support and comfort. Choosing a desk that stands at the right height like the BDI Kronos Lift Standing Desk makes an immediate difference in sitting position and benefits back muscles and the spine. Make sure that the furniture correctly fits the workspace and personal style, to feel energized and focused as opposed to anxious or depressed.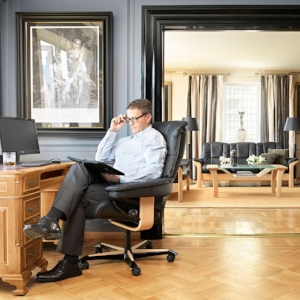 Designer Home Comfort specializes in ergonomic leather furniture of the highest quality designed for modern style and luxury comfort. Not only do they have the largest showroom in Metro Atlanta for brands like Stressless and BDI but they also guarantee the lowest prices for only top-of-the-line products. From recliners and chairs, to tables and desks they have everything to create the perfect home workspace for the contemporary professional.
Your dream home office awaits! Call or visit our Roswell, GA showroom and create your modern, ergonomic workspace today.
Address:
880 Holcomb Bridge RD #140B
Roswell, GA 30076
Phone:
678.682.3363
Want more ergonomic and furniture tips? Sign up for our email list to be up to date on all the latest and greatest at Designer Home Comfort!